New Architectural Precast Concrete Categories Go into Effect October 1
PCI Certification is recognized as the leading, and one of the most widely specified, quality-assurance program in the construction industry. It is specified and or accepted by all major specification entities and government bodies in the United States and Canada.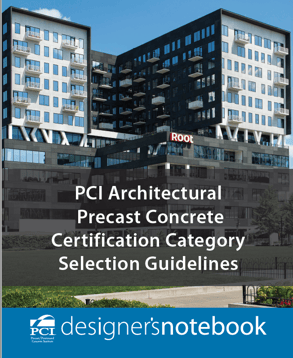 Over the past 30 years architectural precast concrete has evolved from 'big flat grey panels' to colored mixes and finishes to complex curves, 3-D forming and integrated materials like brick, terra cotta and stone. Until now, PCI has had a 'one size fits all' certification program for those producers that have the capabilities to provide architectural colors and finishes. To improve alignment between designer expectations and PCI Certified Plant production capabilities, PCI has expanded the A1 certification category into 5 new categories.
The new program maintains current high level of quality, inspection, and performance requirements for all certification categories. And it creates criteria for those producers who have advanced complexity capabilities. It also sets more accurate aesthetic and tolerance criteria for structural and industrial applications.
Here's how you and your clients benefit from these program updates:
Following an established certification program reduces your risk and ensures that the products will perform as expected for the life of the structure and meet your client's finished product appearance expectations.
Specifying certified products and systems empowers the designer to control the building process – it is your best way to assure that what is designed is what is built.
Certification gives you the opportunity to pre-qualify bidders early in the design process. It is recommended that you visit a manufacturing facility to gain a full understanding of the product's limitations, meet the people that are making your products and clearly communicate your desires for the project.
Our CEUs provide HSW credit and explore what's possible with architectural precast concrete
The following 1-hour on-demand courses available in our eLearning Center provide an overview of the program updates. Courses can also be delivered virtually or in-person to your firm. Here are just a few courses available that feature architectural precast concrete:
Everything you need to know – must-have resources
From frequently asked questions (FAQs) to reference examples of projects in each category, explore the following materials to learn all aspects of the program changes.
Click these links to explore our case studies and project profiles which demonstrate the aesthetic versatility of architectural precast in the Mid-Atlantic – as well as the resiliency and efficiency as a building material – or Find helpful tools, detailed information on working with precast, and expert guidance to support your next project at our Solutions Center. VISIT THE SOLUTIONS CENTER