Each month PCI Mid-Atlantic celebrates one of our Associate or Producer Member companies, the products they manufacture, and the services they provide our industry. This month we feature Boston Valley Terra Cotta.
About Boston Valley Terra Cotta
Boston Valley Terra Cotta is a global leader in the architectural terra cotta industry, serving the restoration, renovation, and new construction markets. The company was established by the Krouse family following the purchase of Boston Valley Pottery in 1981. The original factory produced bricks and clay pots prior to the change in ownership, at which point it was converted into the terra cotta manufacturing facility it is today.
Boston Valley has produced ceramic façade solutions for both new and old terra cotta buildings around the globe, such as Louis Sullivan's historic Guaranty Building in Buffalo, NY; KPF's new supertall skyscraper in Midtown Manhattan – One Vanderbilt, built in 2021; and the restoration of Battersea Power Station in London, England.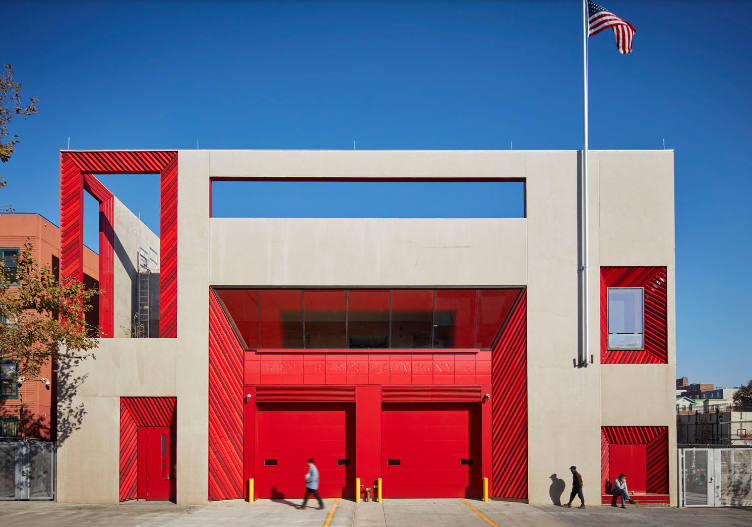 Photo: FDNY Firehouse rescue #2, Brooklyn, NY, Designed by Studio Gang, New York, NY
Working with Boston Valley Terra Cotta
PCI-MA: Tell us about architectural trends you are seeing and how that drives innovation in your company.
Nicholas Parisi, Sales Manager, TerraClad®, TerraPrecast®, and Restoration Sales: With sustainability a constantly growing concern, it is more important than ever to design buildings that reduce our ecological footprint. Using architectural terra cotta for new-build facades not only improves structural performance and longevity, but also helps to lower emissions as a natural material that does not off-gas. Boston Valley works to fabricate lighter weight terra cotta panels using energy efficient processes, conserving resources at the manufacturing, transportation, and installation stages.
In facade repair and restoration, we can complement historical buildings using terra cotta. Boston Valley is the only architectural ceramics manufacturer that utilizes multiple forming methods to replicate existing profiles. Our glaze lab's research and development team allows us to match color and finish with the pinpoint accuracy needed for restoration projects.
PCI-MA: What are the most common building applications for terra cotta in precast and what are the benefits?
Nicholas Parisi, Sales Manager, TerraClad®, TerraPrecast®, and Restoration Sales: While our TerraPreCast product is typically associated with rainscreen systems, it is not exclusively limited to that application. Embedding a terra cotta veneer into precast concrete panels provides a durable barrier wall system that can meet energy codes, support blast resistance, and provide disaster relief.
Terra cotta brings a wide variety of profile and color options to the precast construction market. The malleability of the material allows us to custom fabricate units, including large-scale and deep profile panels, to match the architect's design intent. With an unlimited range of textures and colors – both through-body and glaze – the design possibilities afforded by precast terra cotta are endless.
PCI-MA: What are some of the design considerations architects need to know when designing with terra cotta in architectural precast concrete?
Nicholas Parisi, Sales Manager, TerraClad®, TerraPrecast®, and Restoration Sales: The key to success in working with precast terra cotta is collaboration between the architect, manufacturer, and precast installer early in the design process. The installation contractor for the build will know how to best joint the façade to lay and caulk the forms. Communication between the involved parties allows the manufacturer to fabricate within the material's limitations for efficient fabrication, and to consider joint patterns that meet the precaster's form and installation parameters while still closely matching the architect's aesthetic.
Check out the red glazed terra cotta panels that accent and highlight strategically placed portals on the 2021 PCI Design Award Winner – Best Government and Public Building: FDNY Rescue Company 2 designed by Studio Gang and manufactured by High Concrete Group.
To see other projects by Boston Valley Terra Cotta® or to get your next project started, click HERE for more info.