Case Study: Building a Park Over an Interstate Highway
The construction of Interstate 579 (I-579) through Pittsburgh, PA, more than 60 years ago separated the Hill District from the downtown. With the help of federal grant money from the Transportation Investment Generating Economic Recovery program, the Urban Open Space Cap project creates a new modern park with room for outdoor events and reconnects the disenfranchised district to the city's economic core.
The I-579 project functions as a "cap" over the interstate that provides a walkable link from the Hill District to the downtown. The new park includes art installations, story walls, outdoor classroom space, and an amphitheater, as well as bike and pedestrian pathways.
I-579 Urban Open Space Cap Team: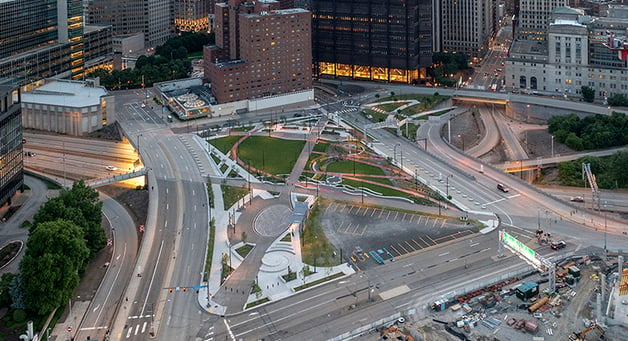 There are no standard design codes for bridges carrying a park, so the expert project team developed specific criteria to meet the complex demands associated with the intended use of the park area. They evaluated both the final in-service condition of the bridge and the construction loadings associated with placing the fill and amenities on the bridge.
Key project attributes:
As Pennsylvania's first park over an interstate, this urban, 3-acre green space reconnects Pittsburgh's historic Hill District with the city's downtown.
The precast concrete adjacent box-beam superstructure is both economical and strong enough to support the unique park loading, including up to 5 ft of soil.
The precast concrete beams also support the hanging lighting for the vehicular tunnel below.


Project scope:
The project used 12,190 linear ft of 48" × 66" precast, prestressed concrete box beams.
The maximum span length is 121 ft.
Erection of the 126 precast concrete adjacent box beams took 38 days, and the entire project was completed in November 2021.
Check out the complete case study to get all the details: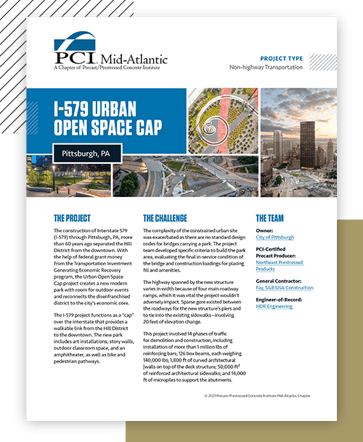 Collaborate with Our Fabricators on Your Next Project
Mid-Atlantic projects utilize many different precast components in bridge superstructures, substructures, and transportation-related projects. This resource is particularly valuable for the region's architecture, engineering, and construction professionals looking for project partners. The directory of PCI Mid-Atlantic Chapter producer members lists products they manufacture, including bridge components, piling, precast substructures, and products like traffic barriers, retaining walls, and pavement slabs. It also shares company websites and contact information to facilitate collaboration. Download the directory to discover the specialties of Mid-Atlantic precast producers and strike up a conversation today.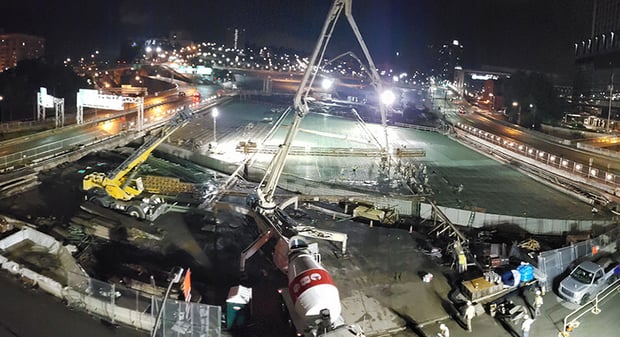 With Precast, It's Possible
Achieve Remarkable Architecture through Prefabrication
Get In Touch
Contact us today to learn how the precasters of the PCI Mid-Atlantic Chapter can help you with your next project.
📞 (717) 682-1215
🖥 pci.org/PCIMidAtlantic
National Institute
📞 (312) 786-0300
🖥 pci.org
© 2023 Precast/Prestressed Concrete Institute Mid-Atlantic Chapter