Long Branch is a city in New Jersey undergoing an extreme renaissance. FEM Real Estate wanted to create a high-end residential community fit for its revival with South Beach at Long Branch, a $45,000,000 new luxury complex. The project became two impressive eight-story luxury towers that required close collaboration for oceanfront construction. Smith-Midland Corporation provided a turnkey, high performance precast concrete solution to meet FEM's vision at their South Beach development.
Achieving Oceanfront Elegance & Efficiency with Precast
The towers of South Beach at Long Branch were designed as an elegant set of structures that would meet core objectives in both safety and efficiency. But its oceanfront location, among other factors, presented several challenges during construction. The team was able to overcome a complex building shape, frequent design changes, and special erection work to create two industrial-strength, energy-efficient towers that shine along the Jersey Shore.
With first-floor garden residences that start at $1.1 million, South Beach became a five-star multi-family housing development that not only provides unrivaled panoramic views, but also meets the highest safety standards for oceanfront construction. Learn how this feat was achieved through precast, prestressed concrete in a free case study from the PCI Mid-Atlantic Chapter.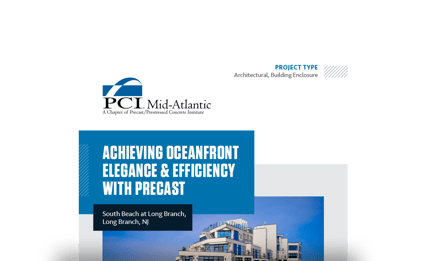 What's Inside:
The project's key details, including the scope, timeline, and team members
The strategy taken to achieve the strength and durability required for an oceanfront location
The results that earned a top industry honor at the 56th Annual New Jersey Concrete Awards
Download the case study to see how the project's team of producers, engineers, architects, and contractors closely collaborated to construct an award-winning complex that remains open to the air, sea, and sky.
"The craftsmanship of the concrete is at the very heart of South Beach at Long Branch—it sets the framework for an iconic structure where a close collaboration between engineers, architects, contractors, and consultants has brought this unique design to life.
– Angelica Arent, Senior Project Manager, Shore Point Architecture
The Team:
Achieve More with Precast
South Beach at Long Branch achieved an impressive concrete industry honor with the help of precast, prestressed concrete—a material that contributes to the success of many similar structures every day. Architects, designers, engineers, and contractors can easily meet modern high-performance construction goals when they understand the advantages of leveraging precast concrete, which span versatility, resilience, and efficiency on multiple levels. Read the full case study to learn how precast supported this successful multi-family housing project.