St. Andrew's Episcopal School in Potomac, Maryland required additional parking facilities for students and faculty to accommodate its growing student body and the local community. The parking garage needed to blend in with existing buildings and structures on its campus and support modern amenities like electric vehicle (EV) charging stations. One key element of the project was the need to complete construction in a three-month summer period to minimize disturbances when school started in the fall. Close collaboration amongst the project team was needed to successfully build the parking garage.
Owner: Andrew's Episcopal School
Contractor: Therrien Waddell
Architect: DCI Architects
PCI-Certified Precast Concrete Producer: Nitterhouse Concrete Products
Structural Engineer: MGV Engineers
Mechanical Engineer: CTA Consulting Engineers
Civil Engineer: Clark I Azar
Fire Protection Engineer: KPT Engineering
The Solution
The project team—including the owner, contractor, architect, precast producer, and engineers—took the constricted timeline into consideration and embarked on the design phase in February, well ahead of the August completion goal. Precast concrete components were fabricated in a controlled environment and delivered to the job site just in time and ready for immediate installation, speeding up construction.
See how the project team collaborated before the project start date in order to get ahead of schedule and complete the parking garage while school was not in session in a free case study from the PCI Mid-Atlantic Chapter.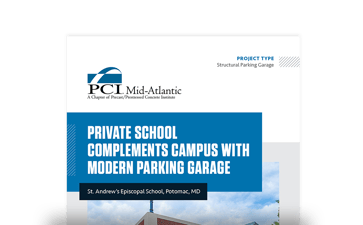 What's Inside:
The project's key details, including the scope, timeline, and team members
The strategic approach to completing the parking garage build in a three-month window
The results and how precast concrete delivered tremendous benefits from start to finish
Download the case study to see how precast concrete and cross-team collaboration enabled the successful completion of the parking garage.
Precast offered tremendous benefits to the project, including accelerated construction, aesthetic versatility, and a long service life. The team utilized tan concrete with different sandblast depths, Glen-Gery thin brick, and grapevine mortar joints to ensure the garage fit in with its surroundings. There are now over one hundred additional parking spaces for the community, with an EV charging station and easy access to entrances and exits.
This project was completed in August 2020 with nearly 16,000 square feet of precast concrete. The school's name adorns the entrance of the new parking garage, along with an image of its Rampant Lion mascot, adding to the campus' prideful look and feel.
ACHIEVE MORE WITH PRECAST
Precast concrete was the best choice for the St. Andrew's Episcopal School project, because it empowered the team to meet critical deadlines and design requirements. PCI-certified precast producer Nitterhouse Concrete Products worked closely with the architectural firm and owners in the design phase of construction to ensure smooth sailing once construction could start in the summer.