As a professor, you want to create positive experiences for your students that will stick with them. To create these types of experiences, you need to bridge the gap between the classroom and the real world. Students learn important lessons in their classrooms, but it can be difficult for them to see how these lessons might apply in the real world, making it hard to stay engaged long-term.
So, how can you bridge that gap for your students and ensure their engagement?
Let's focus on three key ways you can engage the students in your academic architecture, engineering, or construction management program so you can support their academic success.
Use Experiential Learning to Your Advantage
Experiential learning is a great way to drive important theories home and guarantee that they stick with students. Whether you focus on these initiatives within the classroom, the community, or at plants and job sites, experiential learning gives students the unique opportunity to meet with industry professionals and work with hands-on projects using professional products. These experiences and encounters with industry professionals ensure that students won't forget what they learned in your classroom and that they will take it with them into their careers.
However, it's hard to create these unique learning initiatives for your students if you don't have adequate knowledge of the topic yourself. A great place to start is by attending relevant conventions and seminars so you can learn more about the benefits of precast, prestressed concrete and relay them to your students. PCI offers a range of different opportunities for continued education, including the PCI Convention and professor seminars.
And if the initiatives you develop for your students are successful, consider bringing your school administration on board to make permanent changes to your program. After all, they too want to see students focused on academic success and putting their education to good use after graduation.
Provide Students with Practical Knowledge
Theories are certainly important for students to understand, but practical industry knowledge is also essential in preparing them for future success. Whether your students are focusing on architecture, engineering, or construction management, they need to be aware of unique building materials like precast, prestressed concrete so they have a complete picture of the range of materials available when they start their careers.
It's also critical to make sure that students leave your program with a real understanding of how the production of building materials impacts projects. They should also understand the relationship between technology and design, so they are sufficiently prepared for decision-making at the start of their careers.
Work with Industry Partners
Industry partnerships can be hugely beneficial to your academic program. In addition to providing students with opportunities for high-quality experiential learning, industry partnerships also give them access to invaluable expert advice.
When academic institutions partner with PCI Foundation members and firms, students can benefit from:
One-on-one meetings with industry professionals
Hands-on demonstrations
In-person support
Real-world project information
Research partnerships
Plant tours
Scale model learning opportunities
Each of these unique opportunities not only benefits students, but also academic institutions themselves, differentiating academic programs and adding benefits above and beyond the core curriculum. High student engagement and career readiness upon graduation may help increase program application and enrollment rates too.
Keep the Engagement Going with Our Academia Infographic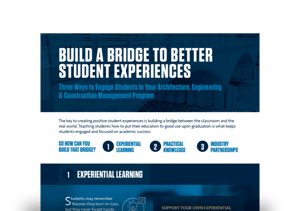 We've covered just a few ways you can increase engagement in your academic program. To learn more about how to better engage students in your program, start by downloading our infographic, Build a Bridge to Better Student Experiences. Created specifically for educators, this infographic includes information on how to build experiential learning initiatives, tips for imparting practical knowledge to your students, and an overview of the importance of exploring industry partnerships.
What's Inside:
Steps for building unique experiential learning initiatives
Guidance for creating a curriculum that prepares students for the real world
Tips for developing mutually beneficial industry partnerships