Excellence in Precast Industrial Building Construction Serving CT, MA, NY, NJ, PA, DE, MD

Each month, PCI Mid-Atlantic celebrates a member of our precast community. These companies work collectively to educate stakeholders and specifiers to advance the precast/prestressed concrete industry. Associate suppliers and fabricator companies collaborate to produce and build thousands of precast bridges, buildings, and parking structures annually.

This month, we're highlighting Northeast Precast (NEP), a leader in high-quality industrial and warehouse building construction in the Northeast and Mid-Atlantic states.
About Northeast Precast
Northeast Precast is a state-of-the-art precast concrete manufacturer in Vineland, New Jersey. From humble beginnings over two decades ago, owners John and Lorie Ruga started selling Superior Walls® in New Jersey in 2001 and started precast manufacturing in 2004. What began as a Superior Walls franchise is now a diversified company well-established as a leader in custom precast products. Northeast Precast continues to expand to meet the demands of the residential, commercial building, highway infrastructure, and heavy-marine construction markets.
With their 400,000 square foot indoor, climate-controlled facility, precast is optimized for year-round construction. This level of control gives NEP the scheduling foresight to accommodate customers' needs.
Sustainable Fabrication and Construction Practices are a Top Priority at Northeast Precast
Northeast Precast is committed to providing robust and sustainable precast solutions for the built environment. They continually evolve their manufacturing practices to reduce their carbon footprint. Some of their improvements include using lower-emitting insulation materials in products, sourcing cement manufactured in a natural gas-fired plant and installing a water and aggregate reclamation system to reduce waste on site. NEP is also exploring decreasing concrete volume in wall sections and reducing cement usage in concrete mixes, as well as working on transparency documentation that establishes internal baselines for ongoing improvement and will publish plant and product-specific environmental product declarations soon.
When working with clients, Northeast Precast also reinforces a few items that are inherent to their operations. Working with stakeholders, they provide the following data driven insight regarding the environmental impact of their products:
Thermal mass

The thermal mass of concrete can substantially reduce the demands on heating and cooling inside any conditioned building.

Carbon sink

Studies have shown that "the hardened concrete binds approximately the same amount of CO2 in the carbonation process as is released during calcination."

Longevity/long service life of concrete structures

Recyclability of concrete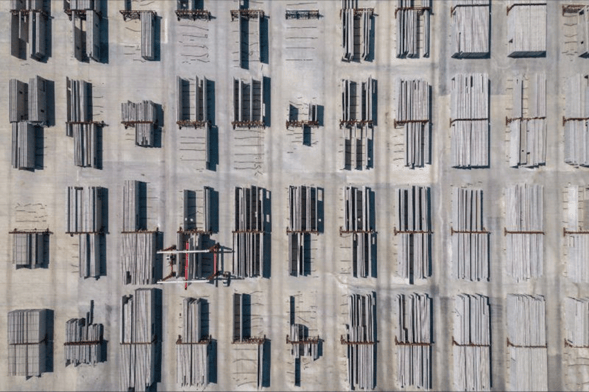 Aerial view of Northeast Precast's storage yard, Vineland, New Jersey. Photo: Mark Gorgas, President, Northeast Precast
Why Precast?
Precast concrete is your go-to building material whether your need is functional, aesthetical, or both. You can achieve a fast installation, find a way to overcome challenging job site restrictions, ensure water tightness or resistance to buoyancy, create a desired look, or achieve complex customizations with precast. In addition, precast concrete can take nearly any shape or size, be manufactured in any color, and come in a wide variety of finishes. With precast, you're limited only by your imagination.
Northeast Precast offers turnkey solutions to your building needs—not just products.
Their dedicated team of estimators, engineers, fabricators, and project managers shepherd your project from design/development to production to installation. Northeast Precast treats your project at every step as if it were their own… because it is. Northeast offers you a custom-engineered, custom-fabricated, custom-installed solution to your project needs. From intricate precast pieces that fit together hand-in-glove every time to reveal lines that seamlessly extend from one end of your building to another, their production standards and attention to detail are summed up in one word: craftsmanship.
Spotlight: Northeast Precast Projects
Lifetime Parking Garage and Fitness Center
A multi-story precast parking garage and fitness club in Middletown, New Jersey. 940 precast components were produced for the project, including columns, beams, double tees, wall panels, and planks. 93' spans were required for the indoor basketball court.

Belmont Retail Village
Located in Elmont, New York, the project consists of 7,190 linear feet of 895 insulated precast wall panels. By utilizing two set crews, NEP completed the panel erection in 75 days, creating the rear side of all the village buildings.

IAS Rubenstein Commons
The Rubenstein Commons at the Institute for Advanced Study (IAS) in Princeton, New Jersey, utilizes precast as a structural component with architectural features. These curved panels created a unique look that weaves into and through the building.

Visit Northeast Precast's website to learn more about this renowned and respected precast producer—and consider its expertise for your next project by contacting NEP today.