What are the cost drivers of building with precast, prestressed concrete?
This is one of the top questions we get when engaging with new customers as a precast producer. Too often, designers and owners are concerned about the difference in aggregate type or even panel finish in terms of the cost impact of a product. But these are actually smaller portions of the overall project cost.
There are few things you should keep in mind when designing with precast concrete and evaluating cost. Let's explore the key cost drivers of precast to see how a project is affected by the cost of products, transportation, site logistics, and erection.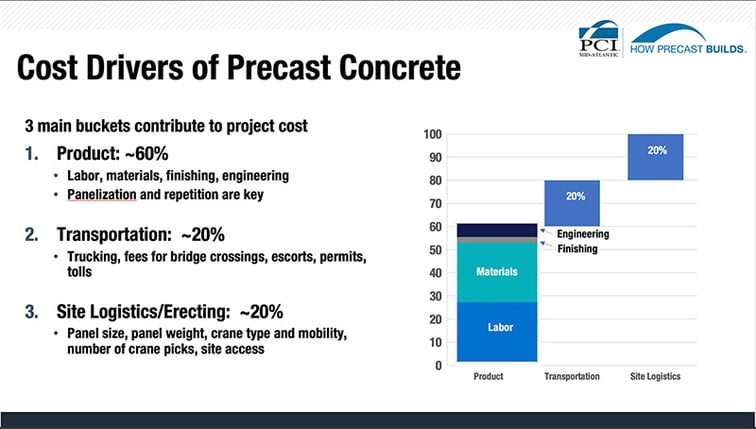 Precast Product Manufacturing
The physical products used in a construction project represent about 60% of the total installed project cost. The most significant factor in precast product manufacturing relative to its cost is the repetition of the panel design. The more a precast producer can utilize the same form, the lower the panel's price tag will be. This master mold concept and the size of the pieces produced are key to cost optimization in precast. A 100-piece project of large precast panels can be less expensive than a 1,000-piece project using much smaller panels on a building of the same square footage.
Piece size is an important factor. Bigger is usually better, since it means less pieces. Smaller pieces usually means more pieces, which means more labor hours required by the architectural precaster and erector to engineer, cast, strip, finish, load, deliver, and install the panels. It ends up being more economical to enclose a larger portion of a building's exterior with fewer precast concrete panels. For maximum economy, you can minimize the number of pieces by making them as large as possible within normal manufacturing, shipping, and erecting limitations.
Using the Master Mold Concept
Molds can be made of steel, rubber, and wood. Steel is the most expensive but lasts the longest. However, for most architectural panels, wood molds are constructed to achieve a premium finish.

The economical production of precast panels includes designing the largest possible mold for a particular unit, allowing several variations from the same mold.

Units cast in a mold need not be identical, provided the changes in the units can be accomplished through pre-engineered mold modifications.

Mold modifications should be achieved with a minimum changeover time and without jeopardizing the usefulness or quality of the original mold.
At Nitterhouse Concrete Products, we produce NiCore hollowcore plank using a sliding steel form, which is a very high-wear environment where wood would be practically useless. Steel forms last indefinitely in terms of panel production, but with wood you can only get twenty to thirty panels. Using wood is highly advantageous, however, when you need to add detail and fine shapes into a piece.
In one project for Martin's Pastry Manufacturing, we produced 350 panels with only 140 significantly different pieces, which required fewer molds and mold changes. We began with the larger pieces using steel forms and worked to smaller pieces using wood inserts to economize on mold labor and material costs.
Precast Shipping & Transportation
When it comes to determining the cost impact of panel transportation, there is no exact optimal panel size that can save you money. Usually the panel size is dictated by size and weight limitations imposed by transport (e.g., weight restrictions and bridge or power line clearances), site access, or crane capacity. Panel size is also a function of the design loads and support locations for connections. Close collaboration between the designer and a precast producer is required.
Larger panels provide secondary benefits by shortening a project's schedule, reducing the joints to be sealed, and requiring fewer connections. Using fewer lineal feet of joint sealant translates directly into less probability of joint sealant failure.
Shipping Limitations with Precast
Options to exceed these limits are sometimes available with permits and premiums on delivery costs.
Maximum height of load: 13' 6" (including trailer and shipping frame height)
Maximum width without permit: 8' 6"
Maximum weight of load without permit: 48,000 lb.
Precast Site Logistics, Crane Access & Panel Erection
The site itself and the access it offers logistical partners play an important role in the installation of precast concrete products. The type of crane required is usually based on panel weight and the required reach, so crane mobility can also have significant impacts on project cost. The number of panels installed on a building, or "crane picks," can be costly. Depending on the going rate in a market area, the cost of picking a single panel can range from $1,500 to $2,500 per pick. Multiply that by several hundred or a few thousand pieces based on the project design, and you can see this quickly adds up.
Site Considerations with Precast
Crane type (mobile vs. tower)

Crane access and swing from truck to building

Power of trucks and cranes (easy movement on stable, solid, access roads)

Side access (open to all sides or limited to two)

Parking garages erect from the inside of the building plan out and require a clear crane path in the footprint of the building, so inside access in one bay is critical.

Wall panels prefer access around the entire perimeter, which impacts piece size. More access means bigger pieces, less picks, less freight. Limited access means shorter reach and smaller pieces, so higher total costs due to an increase in picks.

Street closures (impacting potential for loads to get close to the crane)

Trucks need to be able to feed the crane, so they need space to turn around and back into a site if no such space is offered on the site itself.

Coordination with other site trades, municipalities, and public traffic flow around the construction site is also key.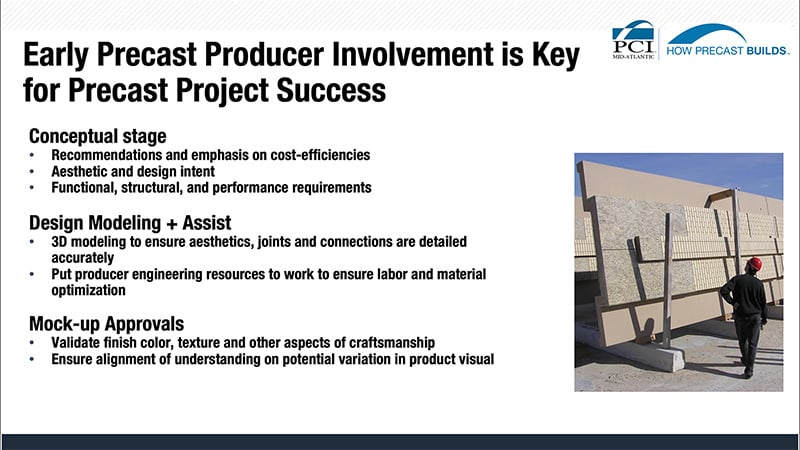 The goal is to deliver a successful outcome to all parties involved in every project. To ensure success, precasters collaborate closely with transportation and erector partners. There are always trade-offs between panel size, transportation, and pick costs. That's why it's critical to analyze panel size in terms of customer design requirements and pick costs; it's a delicate balance that needs to be heavily coordinated on a project-by-project basis. The more this is addressed and detailed on the front end by architects in their documents, the more fine-tuned the pricing can be. The design assist process works extremely well for precast producers to guide architect's in their design that in turn will help precast producers deliver budget and schedule compliance while meeting visual and performance requirements.
Design Freedom is Possible with Precast
When considering precast for your next project, remember that there are many design strategies you can take to reduce costs or experiment with the appearance of panels. Precast offers more than the typical image of plain concrete that most people imagine.
Produce panels with multiple finishes or more than one concrete mix.

Select local aggregates to improve material cost and transportation sustainability.

Add a special shape to a distinct building area with an extension to an existing form.

Set windows back from a building's face at one or two column bays or at certain levels.

Add a few small ornate pieces at the entrance or use as site walls.

Incorporate brick, granite, tile, terra cotta, or natural stone accents as a veneer.

Pre-insulate a panel.
In terms of precast design versatility, Nitterhouse has produced a number of garages that don't have a basic flat, rectangular building feel. Designers can be purposeful in integrating a parking structure into the surrounding architecture.
The Parking Facility for New Jersey Institute of Technology required a brick façade to blend in with the surrounding campus buildings. The architect added a projection feature of a "false" window or punched opening in spandrel panels that gave the building a residential look and feel. These panels were repeated to economize on mold costs, and large panels optimized transportation and erection costs.
The Montclair State University Parking Structure replicates the Spanish mission-style architecture to match the existing structures on campus. A key innovation developed for this project was the use of bolted-on precast concrete arches, which were produced in pieces that could be easily shipped to the site, then bolted and welded to the spandrels. Because this eliminated the need to produce and erect the arched spandrels as one composite unit, a fully rounded arch spandrel was achieved at a fraction of the cost.
To learn more pro tips about working with precast concrete, visit the PCI Mid-Atlantic Solutions Center for checklists, project profiles, and more. Precast can build parking structures, schools, healthcare centers, and countless other structures. Discover how precast builds through helpful resources and expert insights from our members.
References
Architectural Precast Concrete, 3rd Edition, PCI
Our Contributors

Gary Knepper, Director of Sales & Marketing
Nitterhouse Concrete Products, Inc.
717-267-4505
Gary began his career in precast concrete in the drafting department of Nitterhouse Concrete Products as a draftsman. His precast work experience continued from there, spanning a diverse range of progressive roles at Nitterhouse, from Project Coordinator to Drafting & Production Scheduling Manager and then onto his current sales position. He has been involved in the design, manufacturing, and construction of a diverse range of projects from warehouses and parking structures to schools and hospital buildings. Gary has a bachelor's degree from the University of Maryland in mechanical engineering.
About Nitterhouse Concrete Products, Inc.
Founded in 1923, Nitterhouse Concrete Products is in its fifth generation of family ownership and operation. More than ninety-seven years later, Nitterhouse continues to expand its product offering through engineering excellence and the latest technology. The company offers industrial, commercial, and residential customers alike a broad product line that includes NiCore hollow core plank, structural products, insulated precast wall panels, architectural panels, and products for parking structures and total precast buildings. Nitterhouse Concrete Products has grown to become one of the most reputable single-source precast and prestressed concrete producers in the Mid-Atlantic region.