Located in the bustling downtown of Buffalo, New York, 500 Pearl Street Parking Garage is a vast 380,000-square-foot facility. It features fourteen luxury apartments, more than one hundred Aloft hotel rooms, office and retail space, restaurants, a five-floor parking garage and the tallest rooftop bar in the city. Being such a dynamic project, construction of the podium parking garage and mixed-use facility took place over a three-year period.
Project Team:
Owner: Kirk Fischer, Vice President, Ellicott Development
Contractor: Chris Kulik, Project Executive, LeChase Construction
Designer: Ray Bednarski, President, Kideney Architects
PCI-Certified Erector: Bo Husznir, President, Precast Services, Inc.
PCI-Certified Precast Producer: Mark DiPietro, Regional Sales Manager, High Concrete Group
To learn more about precast for parking structures, watch the video below.
To achieve the architect's aesthetic vision for the façade, precast concrete was chosen for its versatility, with metal panels used throughout. See how precast concrete enabled accelerated, all-weather construction in a free case study from the PCI Mid-Atlantic Chapter.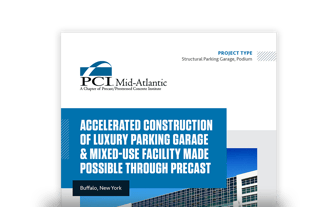 What's Inside:
The project's key details, including the scope, timeline, and team members
The solution used to meet stakeholder expectations
The results and how precast concrete provided efficient installation
Download the case study to see how precast concrete enabled the team to minimize risk, while optimizing construction to reduce the amount of on-site work needed and minimize disruption for easy integration of the mixed-use facility.
"The team recognized the advantages of a total precast structure: accelerated construction, minimal risk in winter conditions, among others. The developer has future project developments that they will adopt to a total precast structure and building enclosure as a result of this experience." – Mark DiPietro, Regional Sales Manager, High Concrete Group
Achieve More with Precast
By utilizing precast concrete, the contractor, designer, precast producer, and PCI-certified erector worked together to deliver a mixed-use structure with unique benefits that met the owner's budget and schedule expectations. Not only did the team achieve the architect's vision for this project, but they did so with minimal noise and disturbance to the surrounding community.