Case Study: Architectural Precast Delivers Striking School Solution
In 2019, Chesterfield County Public Schools set out on a mission to replace their long-standing middle school. Originally built in the 1960s, Manchester Middle School hadn't undergone a serious renovation in over 35 years. To bring the institution into the 21st century in a major way, they planned to replace the existing building with an all-new, two-story modern learning environment capable of accommodating 1,100 students.
One of the things that made the Manchester Middle School project so special is that students, faculty, and community members were able to vote on various design elements for the school through an online survey. To bring their vision to life while adhering to the budget, timeline, and aesthetic requirements, Tindall partnered with the design and construction team to deliver on the chosen design.
The Team
PCI-Certified Precast Producers: Tindall Building Systems, Petersburg, VA
Owner: Chesterfield County Public Schools
General Contractor: Kenbridge Construction, Kenbridge, VA
Architect: RRMM Architects, Richmond, VA
Thin Brick Manufacturer: Summitville
The Solution
Architectural precast concrete wall panels embedded with thin brick were chosen as the cladding material for the new two-story school building. Precast wall panels are a superior solution to conventional cavity wall construction, which relies on a complex system installed by multiple trades. The convenience and efficiency offered by prefabricated architectural precast wall panels deliver robust, resilient, high-quality construction requiring little to no long-term maintenance.
Download the Case Study to see how Tindall delivered a cost-effective and aesthetically striking solution for Manchester Middle School's exterior with 59,700 square feet of precast concrete architectural walls with over 20,000 square feet of thin brick.
What's Inside:
The project's key details, including the scope and team members
The solution that expedited construction to ensure the school year would begin on time
The results that led to all goals being met, including time, budget, and design adherence


The new 139,011-square-foot Manchester Middle School included over 40 classrooms, flex spaces, a full gym, a 600-seat auditorium, and a 400-seat cafeteria. By leveraging architectural precast wall panels instead of a conventional cavity wall, Tindall was able to rapidly deliver a cost-effective and aesthetically striking solution for the new school's exterior.
Explore the strength and resilience of precast concrete, so you can determine if it's right for your next project. To learn more about the benefits of precast concrete, check out our resources below.
ACHIEVE MORE WITH PRECAST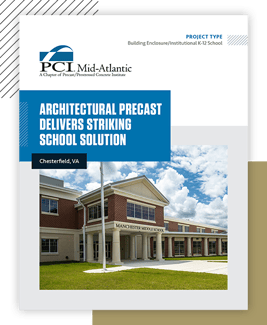 The brand-new Manchester Middle School represents the versatility and efficiency of precast at its best—unmatched construction speed, aesthetic versatility, and seamless collaboration from the community to the build team members every step of the way. With precast concrete, the advantages and possibilities are incomparable.
Keep precast concrete and the Mid-Atlantic region's precast businesses in mind for your next project. Find helpful design tools, project resources, and detailed information on working with precast in our comprehensive Solutions Center.