Each month PCI Mid-Atlantic celebrates one of our Associate or Producer Member companies. The products they manufacture and the services they provide our industry. This month we feature AA certified architectural precast concrete producer Architectural Precast Innovations, Inc. (API) located in Middleburg, Pennsylvania.
About

Architectural Precast Innovations, Inc.
For nearly 50 years, Architectural Precast Innovations has steadily built a rock-solid reputation one water-tight, load bearing, mold-resistant precast concrete wall at a time. We are a precast concrete company solely dedicated to the design and production of precast concrete and pre-manufactured concrete components.
Our 32-acre state-of-the-art facility is located in Middleburg, the heart of Central Pennsylvania. We are dedicated to providing exceptional architectural precast concrete design and production for use in the Mid-Atlantic region of the United States.
Whether it's traditional, insulated, or thin brick precast wall panels you're seeking, we can provide the customized look for your building with a variety of façades, textures, and color options. We build custom molds and fabricate all the precast components in our own facility, thus allowing us to maintain the highest quality control through every step of the production process.
Precast concrete has been used in all types of buildings, including residential high-rises, apartment complexes, offices, educational facilities, dormitories, warehouses, parking garages, stadiums, as well as commercial and municipal structures. It provides unique solutions allowing for faster builds, customized design, and energy efficient building envelope solutions.
Nothing is faster, stronger, or more cost-effective than building with precast concrete for your next project.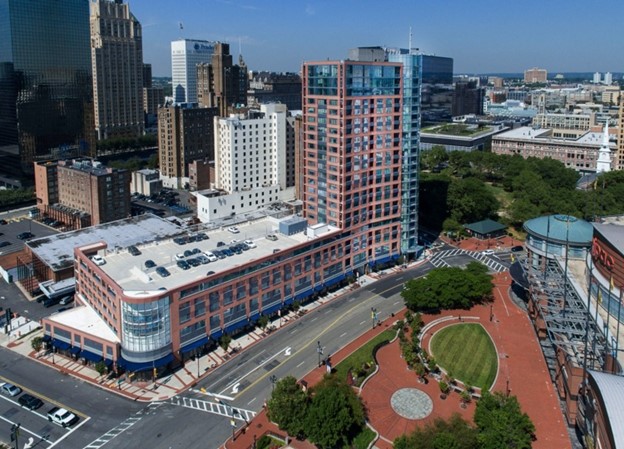 Photo: One Theater Square, Newark, New Jersey
New Architectural Certification Categories Deliver Total Quality Assurance Program
Recently Gary Reed, Vice President, Construction Management, Architectural Precast Innovations, Inc., participated in a webinar highlighting the PCI Architectural Precast Concrete Certification Categories implemented in 2021. Here are a few highlights from the program.
PCI-MA: What does PCI certification deliver to owners and specifiers when choosing architectural precast concrete for their building envelope system?
Gary Reed, API. PCI certification not only ensures from product to product within a plant to over 150 certified plants in the US and Canada, that each custom, prefabricated product meets specification and is inspected, that the people doing this work in the plant are also certified to perform these tasks, and that the entire program at that plant is not dependent on a specific person but is complete enough and functioning to industry standards. As a PCI-certified plant we receive two unannounced audits annually by an independent third-party engineering company that ensures we consistently deliver the high quality, highly complex products we're known for as an AA certified precast concrete producer. This reduces a client's risk and means specifiers get dependable, consistent outcomes to exacting standards and tight tolerances on their design.
PCI-MA. How has architectural precast evolved to meet project requirements?
Gary Reed, API. Many precasters now routinely deliver multiple concrete mixes and finishes on panels, some are using 3D printed forms, we're being asked to embed all kinds of materials and veneers, projection and articulation details, and three-dimensional geometry of products has expanded along with use of BIM software on projects. So producer technologies and capabilities have advanced to align with designer aesthetic requirements.
PCI-MA. What if there are multiple types of products on the project? Maybe a project doesn't fall exactly into one specific category in the new program?
Gary Reed, API. We have a number of resources that can get you started such as project types by category, detailed specification documents, frequently asked questions/responses, mockup drawings by category and other tools. That said, we highly recommend you reach out to a regional producer for guidance. If you have the time, visit a plant near you to view their mockups, tour the facility, and speak with them early in the process so that they can provide design assistance and even budget guidance.
ACHIEVE MORE WITH PRECAST
Keep precast concrete and the Mid-Atlantic region's precast businesses in mind for your next project. Find helpful design tools, project resources, continuing education, and a precast producer near you.
Want to earn an AIA HSW LU and learn more about the new PCI architectural certification categories?
Locate a producer near you to discuss your next project. Visit our producer member directory to get your conversation started!