Case Study: The Beach Waterfront Apartments Constructed with Ease Using Precast Concrete
Standing at the waterfront of the Gold Coast in Jersey City, NJ, "The Beach" is a new, three-tower complex of residential apartments offering lavish amenities, convenience, and a balanced lifestyle for its residents. The design called for open-floor concepts and an aesthetic to suit the character the designers envisioned. Having used precast concrete frequently, Newport Construction knew that precast's versatility, durability, and cost efficiency would be the perfect fit for this multi-family residence.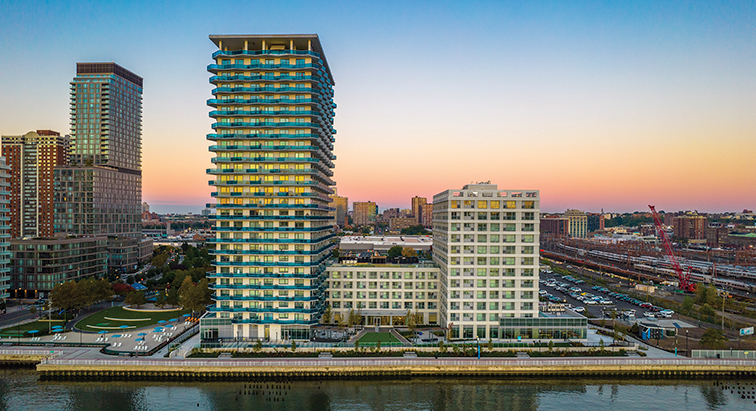 With the reinforced building installed first, the team was challenged in aligning the timing of the project and ensuring that precast pieces lined up properly, expansion joints were correct, and floors were all the same elevation. Precast turned out to be the perfect solution, allowing for open and unobstructed floor plans with minimal columns that suited the design perfectly.
The Team
PCI-Certified Precast Producers: Architectural Precast Innovations and Nitterhouse Concrete Products
Owner: Newport Associates Development Company
General Contractor: Tenth Street Construction LLC
Construction Manager: Newport Construction LLC
Engineer of Record: Civilsmith Engineering Inc.
Structural Engineer: McNamara Salvia
Architect: HLW Architecture LLC
Erector: E.E. Marr Erectors
The Solution
Combining structure and façade into one cost-efficient solution, the team used precast insulated wall panels with an architectural finish and a hollow core floor system.
Working together to provide the best possible result, the team utilized 146,450 square feet of NiCore™ hollow core plank, 50 stairs, 23 stair slabs and architectural precast panels for the exterior, utilizing formliner, colored concrete, and sandblasted finish to create a beautiful exterior and open-concept interior with minimal columns. These precast products allowed the building team to maintain their timeline and the design intent while meeting energy model requirements.
Download the Case Study to learn more about how the building team completed this complex.
What's Inside:
The project's key details, including the scope, timeline, and team members
The solution that saved time, maintained design intent, and provided smooth installation
The results that ensured the project met energy model requirements with thermal mass and continuous insulation
For a number of reasons, Newport Construction frequently uses precast concrete. "We have always loved using precast concrete for its efficiency, durability, ease of installation, and the overall look, so we try to implement it whenever possible," says Melissa Barron, director of Newport Construction. "This type of design is incredibly cost efficient. It is almost as if you get a structure and a facade for the price of one."
Is precast right for your next project? Learn more about total precast concrete systems below:
ACHIEVE MORE WITH PRECAST
The Beach in Jersey City, NJ, is a prime example of precast concrete's versatility and efficiency. In a luxury waterfront apartment complex, the aesthetic is incredibly important, but so is the structural integrity of the building. Precast provided both qualities in this project, maintaining an elegant façade on the building's exterior and allowing for open and unobstructed floor plans with minimal columns that suited the design perfectly.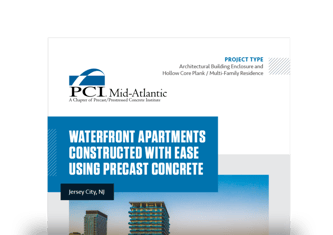 Download the complete case study to see more of The Beach and get a detailed breakdown of how PCI Mid-Atlantic helped create this beautiful waterfront complex.
Keep precast concrete and the Mid-Atlantic region's precast businesses in mind for your next project. Find helpful design tools, project resources, and detailed information on working with precast in our comprehensive Solutions Center.