When the Penn State Hershey Medical Center needed a parking structure, they had very specific goals. It needed to be large enough for their rapidly expanding medical center campus, yet also eye-catching. It had to fit within the cost, schedule, and technical requirements of the overall project. The architects used precast concrete to tackle all of these goals, truly making it stand out enough to win a PCI Design Award for Best All-Precast Concrete Parking Structure in 2021.
"It would be set within the context of an architecturally significant campus, so it had to complement and enhance the materiality already established," says Amy Luchun, principal at Lamar Johnson Collaborative.
Architecturally appealing
This PCI Design Award-winning building features a four-story, 1235-space parking structure with three-dimensional curved spandrels reflecting Pennsylvania's rolling hills. The designers took advantage of the fluidity and versatility of precast concrete to deliver this beautiful parking structure. The total–precast concrete design features a series of 3-D wave spandrels that flow across the sides of the parking structure in four levels. On each level, the panels merge together at central points, then cascade away to create a natural flow in both the design and the way light and air moves throughout the building.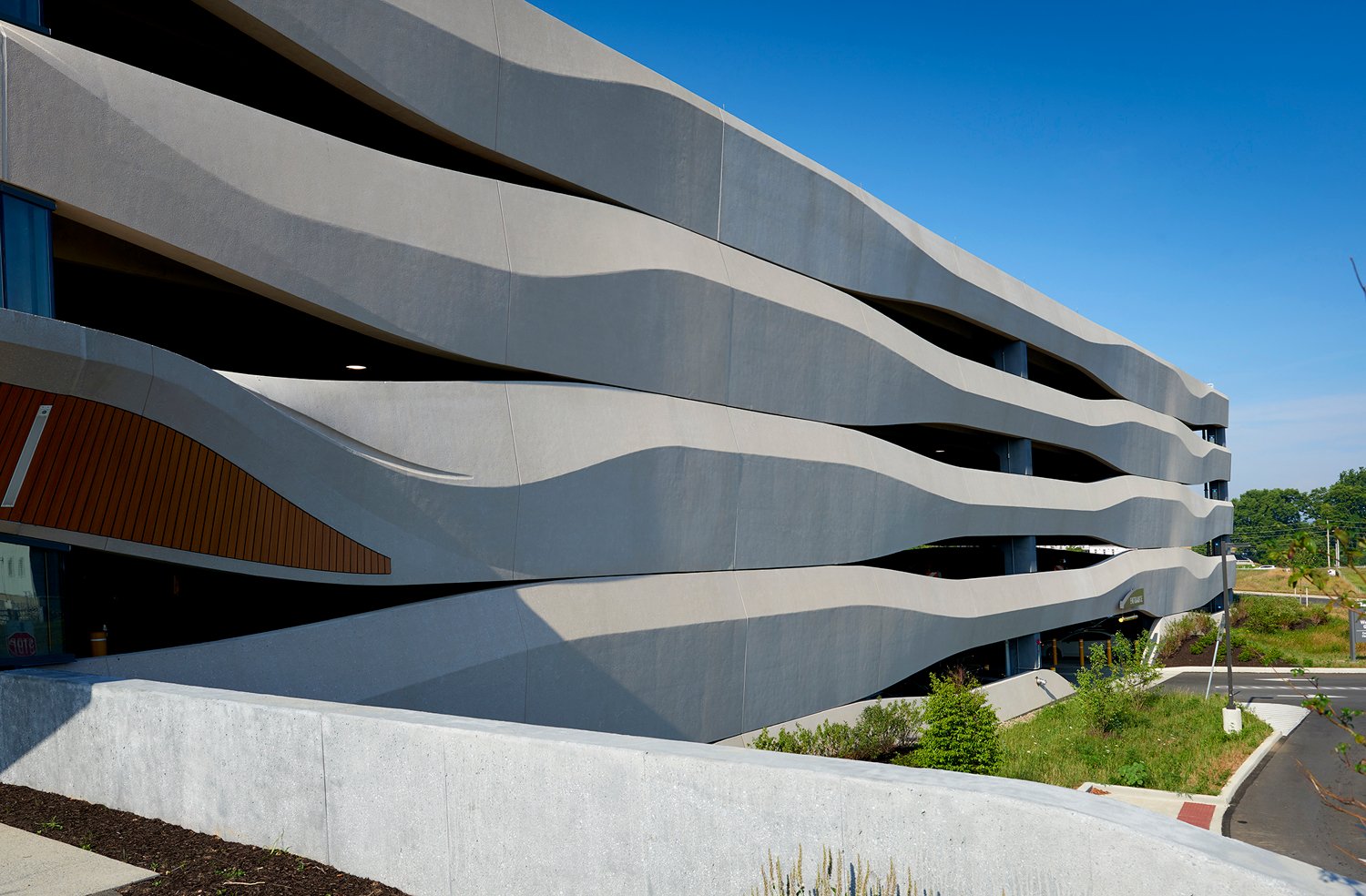 Achieving Design Goals & Critical Cost Savings
Significant cost savings were achieved by reducing the number of unique molds from 72 to 8, and by increasing the bay size using larger double tees. However, these changes resulted in concerns about the weight of the massive panels. The precast concrete producer had to stay within a 100,000-lb limit, which they did by using a Grasshopper script in Rhino and Tekla tools to constantly monitor the weight of the panels. The 8-ft overhang cantilever entrance was created in two pours to accommodate its massive depth.
Designed and developed by a project team of architects, engineers, and a PCI-certified producer and erector, the Penn State Hershey Medical Center Garage included 771 total pieces of precast concrete and erection was completed in four months.
PROJECT TEAM
Owner: Penn State Health, Hershey, Pa.
Producer: High Concrete Group, Denver, Pa.
Architect: Lamar Johnson Collaborative, Chicago, Ill.
Engineer of Record: Hope Furrer Associates, State College, Pa.
General Contractor: Clayco, St. Louis, Mo.
PCI-Certified Erector: High Structural Erectors, Lancaster, Pa.
Achieve More with Precast
The project was completed in January 2020, and, as an unexpected benefit, the parking structure was used as a drive-through COVID-19 testing site, she adds. "With the larger bays and well-lit area, it was a perfect location that also provided a safe space to tend to their community."
Watch the Project video to hear more about this innovative Precast project.
Learn more about this impressive $32.4M project and why precast was chosen. See the scope, strategy, and details in the project profile.