A CIM Professor's Perspective: "Our Goal is 100% Job Placement"
By Associate Professor Mohamed Mahgoub, NJIT, and Dawn Decker
A multibillion-dollar industry, Concrete Industry Management (CIM) uses cutting-edge technology and management techniques to construct buildings, roads, and bridges. Students enrolled in CIM benefit from the great demand for educated professionals trained in concrete technology, systems management, and using products and services vital to the concrete industry.
The objective of CIM programs is to produce graduates grounded in the basics of concrete production techniques and concrete's use in a multitude of construction applications. In addition, graduates acquire a minor in business administration.
CIM is only offered at five colleges in the U.S., and the program at NJIT has a nearly 100 percent job placement rate and graduated 134 CIM students since 2006. There is a significant need for individuals possessing these skills to build robust structures and infrastructure across the country, making those who've acquired these skills fervently sought after and hirable.
Before our grant with NPCA and PCI Mid-Atlantic, our students didn't interact with the precast and prestressed concrete industry. As a project engineer at Alfred Benesch and Company, I designed prestressed concrete bridges and experienced firsthand the advantages of working with the material. Precast and prestressed concrete have a strong presence in the Mid-Atlantic, with over $1B in annual sales serviced by 30 plants predominantly in New Jersey, Pennsylvania, and Virginia. Due to my own experiences and knowledge, I felt it was essential to expose students to precast concrete construction as part of our program. We're now in the third year of our grant and have made many accomplishments! Here are just a few of this year's student successes:
Students can explain the fundamental principles and methods of precast concrete construction, including the manufacturing, transportation, and erection processes.

Students can analyze structural requirements and effectively incorporate precast elements into the design process, considering factors like load-bearing capacity, structural integrity, and aesthetic considerations.

Students are proficient in using industry-standard software and technologies for precast design and detailing, such as Building Information Modeling (BIM) software and automated fabrication systems to enhance efficiency and accuracy in precast construction.

Students can evaluate the environmental impact of precast construction and propose sustainable solutions, considering factors such as material selection, energy efficiency, waste management, and life cycle analysis.

Students can articulate their ideas and present technical information on precast construction clearly and concisely, both orally and in written reports, enhancing their ability to communicate with clients, contractors, and other stakeholders.

Students participated in the

PCI Big Beam Competition

. A student team worked with Jersey Precast to build a 20-foot precast, prestressed concrete beam. The beam is tested, and prizes are awarded for best performance. Students must discuss both the structural design and the concrete mixture proportions for the beam.
Industry partnerships with PCI Mid-Atlantic regional producers and networking with other professors at annual events like the PCI Foundation Professors Workshop make this program a reality.
Thanks to experiential learning through mentor student projects, field visits, guest speakers, and so much more, our CIM graduates enter the workforce confident in helping other stakeholders explore precast and prestressed concrete solutions in the "real world."
I'll conclude with one of our most recent and proudest achievements:
We worked closely with our administration and made the case for a PCI Student Chapter at NJIT. Our plan was realized just a few months ago. Special thanks to Professor Eric Matsumoto of California State University Sacramento's Department of Civil Engineering, who successfully established the first PCI Student Chapter.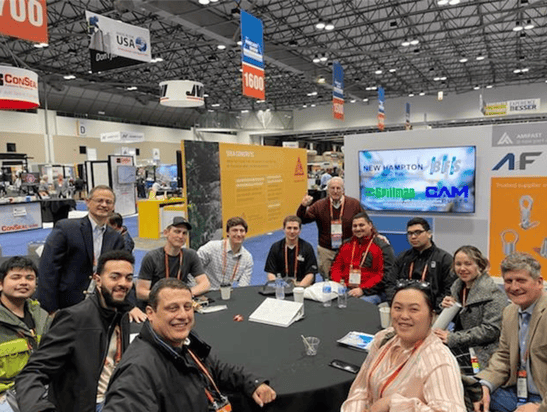 PCI Student Chapters met at The Precast Show in Columbus, Ohio. Photo: Mohamed Mahgoub.
Professor Mahgoub is the Director of NJIT's Concrete Industry Management (CIM) Program. Prior to joining NJIT, he was one of the lead bridge engineers for the Chicago consulting firm Alfred Benesch & Company, working out of Lansing, Michigan, on bridge design for the Michigan Department of Transportation (MDOT). Currently, he teaches undergraduate and graduate courses in construction engineering, concrete testing, and repair.
Want to learn more about guest lectures, plant tours, and other educational materials from PCI Mid-Atlantic? Reach out to PCI-MA today!

© 2023 Precast/Prestressed Concrete Institute Mid-Atlantic Chapter