Every professional in the design and construction community understands the weight of protecting their reputation. And like our fellow chapters, PCI Mid-Atlantic believes that the best way to uphold a great reputation is to take a proactive approach to problem-solving; our producer members see significantly more time and cost savings when their teams are proactive rather than reactive when completing projects. But this proactive mindset can only go so far. From owners to architects, producers to contractors, and everyone in between, having a trusted method for achieving predictable, consistent project outcomes is the key to erecting high-quality structures every time.
PCI Certification is one of the most widely specified quality-assurance programs in the construction industry, accepted by all major entities and government bodies in the United States and Canada. Certification requires comprehensive internal systems and in-plant production and field installation auditing to continuously ensure all products are manufactured in accordance with stringent owner requirements and industry standards. And for designing architectural precast concrete, PCI's Architectural Certification Program offers everything professionals need to move projects along seamlessly from initial concept to bid to completion.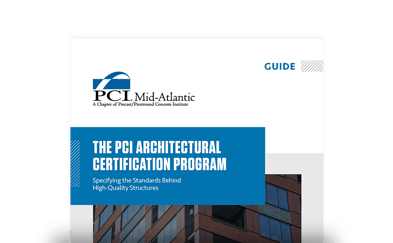 Learn more about the PCI Architectural Certification Program below, and read a free guide from PCI Mid-Atlantic for full details on recent updates to this.
What's New to the Program?
Architects and designers utilize precast, prestressed concrete in construction for its inherent versatility, reliability, and flexibility. Based on feedback from precast producers and designers, the PCI Architectural Certification Program has been updated to align each producer's capabilities with the specific markets they serve.
Going into effect in October 2021 are changes to the program designed to enhance the way construction communities operate and collaborate. These include five project complexity categories, new aesthetic and tolerance criteria, built-in quality-assurance checks, and easier market applicability.
The five categories—each with specific quality, inspection, and performance requirements—are based on the various levels of project complexity and the criteria that professionals should meet to better understand projects upfront. By specifying which category a project belongs in, architects and engineers can align design needs and plant production capabilities early on. And by sharing which categories they offer experience in, producers can more easily match their capabilities to available jobs. This sets the stage for more effective partnerships moving forward.
The Architectural Certification Categories
AA: Heightened tolerance and shape complexity
AB: Greater emphasis on shape and alignment tolerance
AC: Similar to the high-quality architectural products in current category A1
AD: High-quality products meeting PCI MNL 116 requirements for structural product and industrial wall panel applications
AT: Small products, including coping, trim, and small accent pieces
Not only will the updates help accurately categorize products across precast segments, but they'll also pre-qualify architectural precast bidders and give certified producers new opportunities to differentiate their businesses in the marketplace.
Take Action with PCI
The guidelines and best practices shared in the PCI Architectural Certification Program encourage designers to enter the design assist process for early precaster project involvement. This gives architects more control throughout the building process, helping them navigate various project requirements, find a partner to complete their work, and consistently meet owner expectations. And most importantly, it connects key players across the industry for optimal project logistics and impressive final structures.
Collaboration can bring your project to the next level. Schedule a virtual Learn @ Lunch to dive deeper into the revised certification program with one of our newest courses "How Precast Builds: PCI Architectural Certification Program." In the meantime, enjoy a detailed breakdown of the latest program updates and their implications in the full guide from PCI Mid-Atlantic.